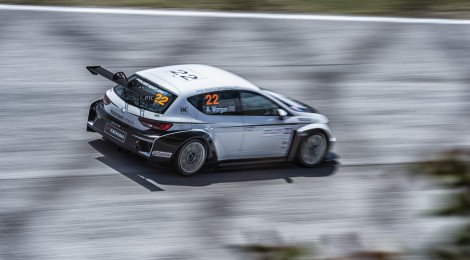 Morgan holds off stiff competition in Portugal
Alex Morgan clinched a sixth-place finish in the second outing of the 2015 SEAT Leon Eurocup after a hard-fought battle at Portuguese circuit Estoril on 9-10 May 2015. Securing another finish in the points, the Baporo Motorsport driver is running eighth in the drivers' standings in his debut season in the series.
Now based in Reading, the Bridgend-born driver had a solid start to the weekend, setting the fifth fastest time in free practice one with a lap of 1:49.066 at the wheel of his #22 SEAT Leon Cup Racer. He further improved his time around the 2.599-mile circuit in qualifying.
On his third lap during the 30-minute qualifying session, Alex put in a strong lap of 1:48.000 to secure a fourth-row start on the grid for the first race of the weekend, while the reverse grid regulations meant he started from an impressive pole position for race two.
As the first 15-lap race got underway, Alex made a good start from eighth amongst the jostling 28-strong pack, and exited turn one in sixth place. However, as the field entered turn two, a hard-charging Mauricio Hernández made heavy contact with the rear of Alex's car, damaging the bumper and wheel, forcing Alex into early retirement.
For the second race of the weekend, 2013 UK Renault Clio Cup Vice-Champion Alex was on pole and lined up alongside Spanish Monlau Competición driver Fran Rueda. Alex made a fantastic start, sprinting into the lead and holding off challenges from Rueda into the first corner. Ahead of the field, Alex looked to pull away from the ensuing pack but on lap three Rueda was able to close the gap and made an ambitious move into turn seven, damaging Alex's door and rear corner alignment whilst  demoting Alex to second place.
Despite the damage, Alex held firm in second and continued to set consistent lap times whilst receiving pressure from Hernández and JSB Competition's Julien Briché. As the trio battled for position, Briché managed to squeeze his way into second place, with Alex having to immediately defend from Manuel Giao and Stian Paulsen. Unfortunately the tyres began degrading due to the rear wheel alignment damage, making the car more and more difficult to drive.
Alex continued to fight off the advances of Giao as the pair closed in on backmarkers, with Giao temporarily passing and Alex managing to regain his third position as Giao and Paulsen made contact, causing both to fall out of contention.
Alex's next challenger was current series leader and 2014 SEAT Leon Eurocup Champion Pol Rosell. Despite Rosell's extra experience in the SEAT race car, series novice Alex was able to keep the Spanish driver at bay. Yet on the final corner of the penultimate lap Alex ran slightly wide as the car's handling worsened from the earlier damage, and Rosell took advantage to pass into turn one for third. With very little front grip left, Alex did his best to maintain position, slipping back two places on the final lap to cross the finish line sixth and claim a points finish from the weekend.
Morgan said:
It's been a tough weekend at Estoril. I couldn't do anything more in the first race as I made a fantastic start and, through no fault of my own, another driver caused serious damage to my car and forced me to retire. The pace of the car was shown in the early laps of race two as I was able to battle and hold off some of last season's series front-runners despite receiving substantial damage again. It was great to start from pole in only my second race weekend and if it hadn't been for the early race contact whilst leading, I am confident I could have obtained my first SEAT podium finish. I'm a little frustrated as I wanted to secure a few more points than we did, but that's racing! I'm really looking forward to Silverstone as I know the track and hope to take a home advantage.
Following four rounds of the 14-race season, Alex is currently eighth in the series' standings with a total of eight points. Next he will head to his home circuit, the UK's prestigious Silverstone, to contest rounds five and six on 6-7 June 2015.